28 Dec 2013
Dawn Ng in conversation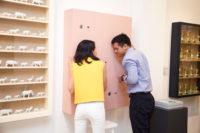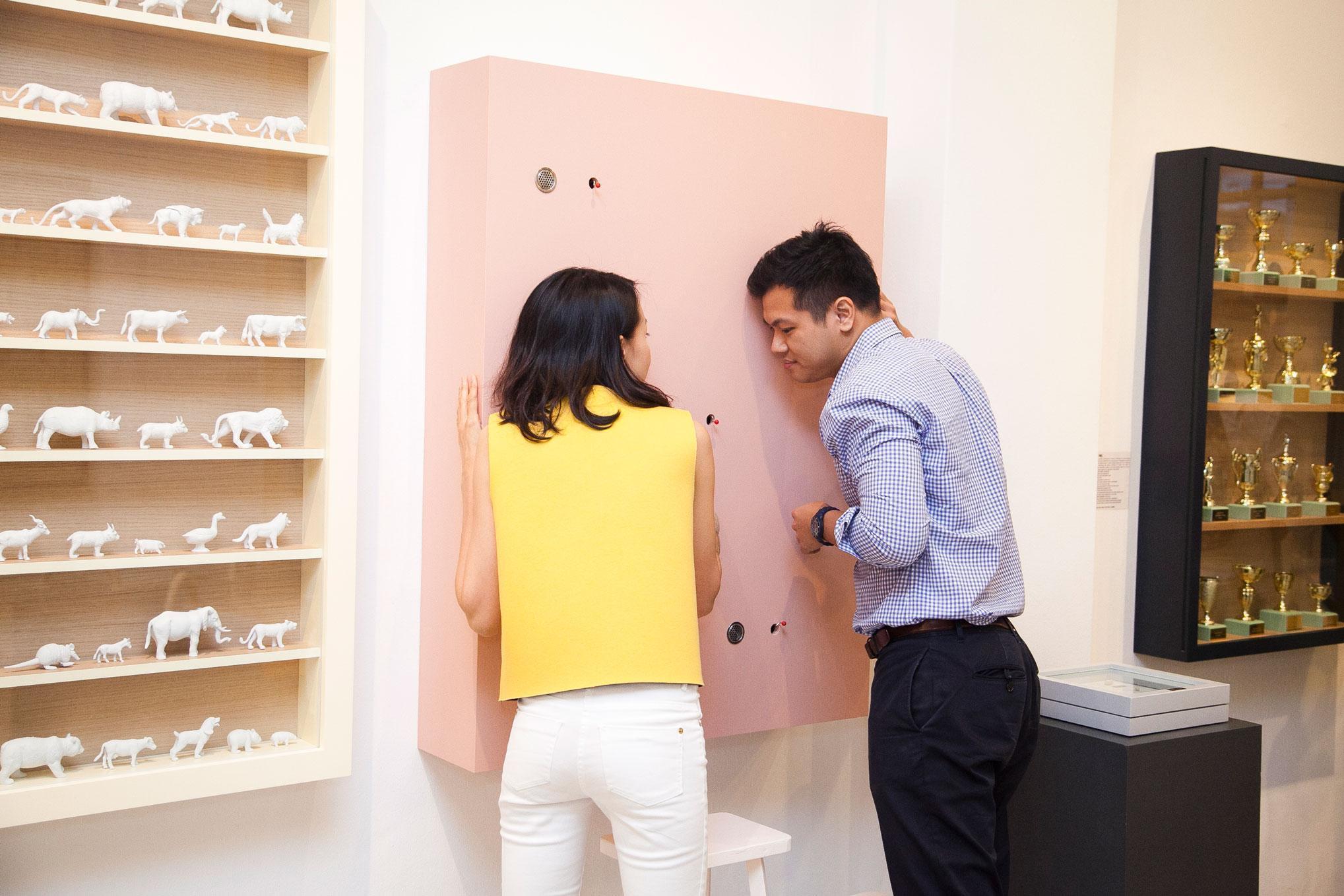 WORDS BY: Anna Dickie
Dawn's Ng's work, Sixteen (2013), shown at Chan Hampe Galleries' booth at Art Basel in Hong Kong, sold before the fair opened to the public. The work consists of nested wooden boxes, ranging from an antique shipping trunk to the size of a jewellery box, each lacquered in a bright color, with a brass plaque inscribed with text on its lid. This success in Hong Kong followed on from an installation in 2009, I FLY LIKE PAPER GET HIGH LIKE PLANES at the BlackOut art show. This saw her coined by the press as 'the new tour de force of the local art scene'; and by Singapore Art Museum's purchase of her work WALTER – which comprised of a large inflatable rabbit that Ng photographed in various locations around Singapore. Ocula caught up Ng to discuss her work, and in particular what she will be showing at Chan Hampe Galleries during January.
You originally worked in advertising. How did you come to be an artist?
I was a studio art and writing double major in college. After I graduated, I jumped straight into advertising in New York. The craft of story-telling and the people I worked with then are foundational in my work even today. Advertising was a means to tell stories about brands or products. Over the years, I became an artist because I wanted to tell my own stories, truths and create my own make believe worlds.
You mentioned in an interview in Art in America, that "In my 20s, I moved countries a lot…..and I found that my life could fit into 16 boxes. When I went to college in Georgetown, I was moving West to follow opportunity, as were others in my nomadic generation. Then China boomed and we wanted to come back!" I understand that the work Sixteen very much related to this experience.
A lot of my work deals with time, memory and space. Sixteen was an installation of 16 mysterious wooden chests built in a bold spectrum of colors. These chests were crafted to resemble treasure boxes, which fit one inside the other — the largest, the size of an over-sized antique travel trunk, down to the smallest, the size of a musical box. The viewer is implicated in the telling of a story through the ritual of opening each subsequent box. This story is mine as much as it is anyone else's – within each box is a surprising turning point that determines the places we go, the people we meet and the experiences we have. The boxes cocoon a picayune sense of dislocation and loneliness born from my generation's freedom, and capture our tendency to look back even whilst moving on. The work is a psychological and emotional documentation of our migration from east-to-west-and-west-back-to-east, mirroring the moving economic center of the world.
You have worked across a breadth of mediums and scale ranging from collage, photography, illustration, light to installation – but you're a relatively young artist. Is this a case of finding the medium you enjoy most, or do you like exploring?
I don't have loyalties to certain mediums. I actually think that promiscuity is important. Different stories deserve to be told in different formats.
In 2009, you created, I FLY LIKE PAPER GET HIGH LIKE PLANES, an installation at the BlackOut art show. Can you tell us more about this?
I FLY LIKE PAPER is based on my fixation on the concept of home and the associated feeling of nostalgia. Each paper airplane, symbolic of travel, bursts from a single window and explodes out to visually and physically overwhelm the viewer. My intention is to recreate this tsunamic force of emotion so great that it swallows one whole. The smallest paper plane is the size of my palm, the biggest one is of me lying down.
WALTER, which featured an inflatable rabbit, which you photographed around Singapore, garnered much media attention and has been perceived as political and even associated with a type of guerilla art. Was this intended?
WALTER began as a series of guerilla installations of a colossal rabbit, which emerged across Singapore's standard landscape of flats and heartland enclaves. The sculpture's incongruity to his environment forced people to re examine overlooked and over familiar spaces by invoking a sense of surprise and wonder. By inserting and documenting a surreal and whimsical object within the "invisible normal," it forced people to see the wonderful in their everyday. So yes, WALTER was precocious and subversive but naïve at the same time.
You have an upcoming solo exhibition at Chan Hampe Galleries, Singapore during Art Stage. Tell me about the show?
My new solo WINDOWSHOP is an installation of a cabinet of curiosities unique to this day and age. Scoured, bartered, haggled, coaxed, stripped, painted and polished, thousands of objects, hand-picked from local junk stores, homes, shops and nostalgia collectors, form a peculiar collection of tailor-made, brass-titled furniture pieces. Each title tells a story of the objects within. From merry-go-rounds to marble cases, the titles constitute a visual litany of funny, irreverent and at times, painfully honest observations about people and objects in relationship to time, place, memory, truth and love.
Like cabinets of curiosities built in Renaissance Europe, WINDOWSHOP serves as a personal memory theatre in the context of Singapore's own Golden Age. Yet unlike cabinets of curiosities of yore, which tended toward a pompous collection of Art and Antiquities, WINDOWSHOP seeks to curate and celebrate the infinitely everyday and beautifully ordinary of our times.
The work is representative of my own documentative obsession as an artist and a mirror of my generation's infatuation with the past. It sheds light on our human fascination with keeping things, and begs us to question that which is truly priceless.
There will also be a major installation project taking place on a nearby rooftop?
PERFECT DAY is a neon installation perched on top of a rooftop bar at Odeon Towers. It draws bold theatrical design cues from KTV signages, which proliferate seedier parts of Singapore. The work is boldly juxtaposed against the elegant, white-gloved backdrop of Raffles Hotel, and is both a wry parody of the manufactured happy-clappy wonderlands which local KTVs represent, and a rebellious beacon of optimism hoisted into the sky. The borrowed idiom, which literally translates to a beautiful day, is the first four words that all Chinese-Singaporeans were taught to start any school essay with, be it a tale of love, drama, tragedy, or adventure. Traces of childhood naïveté and hope embedded in the idiom serve as a secret code that opens the door of time travel to all who chance upon it, drawing them back to a past where all narratives began with that perfect day.
After the Chan Hampe exhibition – what does 2014 hold for you?
Who knows.