21 Jul 2022
Freezing Time in A Riot of Colours: In Conversation with Dawn Ng
"Into Air" is not lacking in ambition in its choice of historic location, its subject matter, or the breadth of its media, comprising photographs, paintings, light boxes, video and one-off performance.

Many of Dawn Ng's artworks are reminiscent of maps or surveys of an unknown place, contours of undiscovered lands. Love is Old, Love is New, Love is All, Love is You (2022) seems to offer heights and depths which turn this print into a sculpture. Cocooned in a custom-built, pew-like structure, we look down on the image with a sense of reverence, as if it were an object of religious devotion. Throughout, a partnership with EBBA Architects ensures that the creations themselves are presented within custom-built frameworks and structures. Their rich wood forms its own dialogue with this place of worship.
On the far corner of St Cyprian's Church is a mesmerising 25-minute video with the beautiful title of Time Lost Falling in Love (2022), the story of multi-coloured ice inexorably collapsing and melting. The time taken to complete this journey of bright thawing was several hours, taking ever longer as the block became ever smaller. Thus, in editing, the video is sped up, but not consistently so, testament to the artist's perspective on time as a fungible, elastic notion.

We spoke to the artist shortly before her show opened in London, to be followed by a month-long residency at Gasworks in Vauxhall.
NS: Your work involves the freezing and melting of ice, and its depiction in photography, video, and canvas. Could you tell us about some of the challenges of doing this? There must have been many!

DN: A large part of my practice has always been anchored in my obsession with time and ephemerality— the things that won't stay. In 2018 and 2019, my response was to seek to give time a colour, shape and form. I have always struggled with the way that we discuss time. If I were to ask you what time it is, you would never tell me a colour or an emotion. However, in reality, time is truly emotional and elastic. Time can speed up when you're having fun, slow down when you are bored, and it completely stands still when you fall in love with a person, place or song. The starting point of this body of work was therefore to rip out that spinal cord of numbers, and to study ephemeral objects that bear the trace of time. Almost everything that we come in contact with is ephemeral: a flower, you and I, ageing. Growing up in Singapore, where it's 365 days of eternal, mad summer, the one thing that cannot last is ice. I have known this to be true as a child; there is this perennial novelty and sense of magic in a block that cannot stay. In Singapore, even the desserts that I enjoyed as a child are made of coloured ice. This was a starting point for me to freeze inks, acrylics, dyes and watercolour, and to track that collapse and disappearance from monumentality to nothingness.
DN: On a technical level, it's been so challenging to deal with an object that will not hold still. The body of work spans photographs, paintings and film. Each of those media is an endeavour to hold time a little longer, to hold on to a residue and a memory. With a camera, you are freeze framing a second, with film you are bending time, pulling it forwards and backwards, trying to stay in the now constantly. With the paintings, I see them as that final stage when time has moved through the water cycle, from solid, to liquid, to air. The paintings are made almost like blankets, stealing time as it moves from liquid back to air. Every stage is romantic. Like all romantic things, it's a bit futile, it's a bit laborious, but always beautiful and necessary.
NS: Please tell us about your partnership with St Cyprian's Church in London. Does an older, religious building amplify the themes of your art?

DN: The first time this show was presented in Singapore, it was in a derelict ship factory. There was something about the decay, the patina of time having flowed through the walls, which really leant a new dimension to the work and created synergy. I wanted to apply this same lens to where and how it was shown in London.

So, we looked at many types of institutions: we also considered factories, studios, and apartments. However, when St Cyprian's Church came on the radar, it reminded me of how fundamental the concept of time is in the Bible. Alpha and Omega, the beginning and the end. Also, you have the idea of Chronos and Kairos; the former being the Greek term for time in minutes and days, the latter being what mystics would call deep time, and Christians would call God's time. It is most prominent in Ecclesiastes, later sung by the rock band, The Byrds: to everything, turn, turn, turn, there is a season, and a time for every purpose under heaven…a time to be born, a time to die, a time to plant, a time to reap…a time to dance, a time to mourn. I thought that was so beautiful, and it's so intrinsic to the values that the church seeks to hold and encapsulate.
DN: One of the challenges that comes with working in a church or any heritage building, is that no holes could be drilled into the walls. So, we needed to adapt, and I studied the design language of the church, including its mid-century pews, pulpits and altars. When I visited in March, I chose to collaborate with a London architect at EBBA, to build some human-size free-standing structures which have their own physicality and work in dialogue with each other. When you approach each work, the frames don't feel like art frames but vitrines, like you might see at the Natural History Museum. Additionally, I'm collaborating with Welsh composer, Alex Mills and opera singer Jess Dandy to present a site-specific vocal performance which uses the unique acoustics of the church, as part of Performance Exchange. Alex's work also deals with time and cyclicality.
NS: Time and its elastic nature is a key theme in your work. Does this lead to thoughts of mortality, or can time be more optimistic than that?

DN: There is an inescapable relationship between beauty and death. Death gives meaning to all of time. I don't necessarily see death as something tragic, sad or final. It is that structure that gives true worth and true value to what comes before it. I sense death the most in the paintings. In Asia, especially as a Chinese Asian, we don't like to talk about death. We feel it is bad luck. But in the paintings, I see death as something beautiful. Even in that last transition to nothingness, the pigments explode. They have a way of clinging on, they try to form tributaries, they flood a space. There is something very beautiful about that last gasp. It is not meek. It can be as strong as fireworks.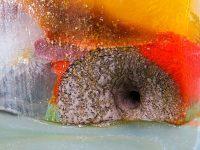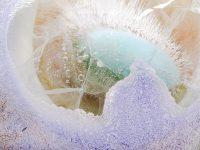 NS: You work extensively with colour and pigments. What colours does time bring to mind?

DN: Time does not come through in my mind as a single colour but as a riot of colours. I see the colours swelling and ebbing. It's a meteorite, a coming together and coming apart of colours. In the photos, colours are solid, forming clusters, almost like a landfall. In the paintings, they expand, they collapse—there is no definite end, the colours span from edge to edge. Time has that breathability and that capacity to swell and contract.

NS: You mentioned once that the enforced introspection brought on by these years of COVID-19 may result in some great art in the coming years. Have you gained inspiration from the restrictions of recent years?

DN: Yes, if you can't go out, you are forced to go in. The landscape is inwards. When the landscape is out there, and you are allowed to traverse, travel and meet people, that journey is physical, expansive and lateral. During the COVID-19 period, we had to mine deeper, to sit with ourselves, and that is hugely important for any artist. It has to go dark, and the noise has to stop. It's pure speculation, but I think it will be fascinating to see what comes out in the next five to ten years. It's completely unique for each person, and that tension is interesting for any artist.
NS: What projects are you currently working on? And what media can we look forward to seeing?

DN: Straight after this, I go to Sydney for a solo show with Sullivan+Strumpf, and then there are a couple of large public commissions to be installed in Singapore in January. With regard to the medium, I never start with that in mind. I start with a compelling urge to work on a story, and then the narrative finds its own form. That's how this octopus of a show came about! I will continue to work like that. For me, this has been the most fertile, fruitful and exciting way to work. It was 2018, when I started freezing pigment, and there was very little available in terms of advice about technique. I find it exciting, the process of being schooled by the material. I am the constant apprentice, and I love being put in that position.