Blue Quartzite & Mirror | 4 x 4 x 2 M | 2022
A Piece of Sky (2022) is a commissioned installation of 8 staggered columns of stone and glass for the Boston Consulting Group. Set against the backdrop of Singapore's soft, cerulean sky and sea, the sculpture draws on stratospheric hues, reflecting a sense of perpetuity during a period where time seems to have stopped for the world.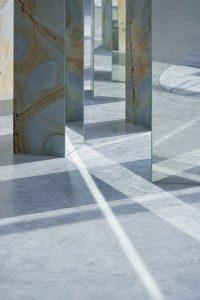 The mirrored symmetry of towers ushers the viewer towards its centre, where portals of
reflections blossom in identical circuits on one's left and right.
This continual revelation of self and space offers the viewer a meditative rhythm of losing and finding oneself over and over again.