Into Air, 2023
21 April – 20 May
2023
An ode to process and fleeting beauty, Ng's body of work began as a study into the articulation of temporality. Rather than relying on numerical terms Ng turns to the most ephemeral material available to her in her native Singapore – ice – and from there has devised an emotive language of creation, destruction, trace and remembrance.
The passage is a cyclical one. Ng assiduously builds blocks of frozen pigment with the skill of a chemist, a painter and a sculptor creating a topographical medley of pigments, watercolours, dyes. The layers build, encrust and stagger. Photographed from multiple angles as they decay, these comprise Ng's body of work known as 'Clocks'. Taking their individual titles from song lyrics that Ng has listened to when laboriously creating each block, they capture a moment of being and recollecting – crystallised, engrained.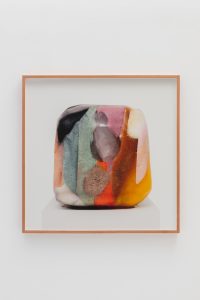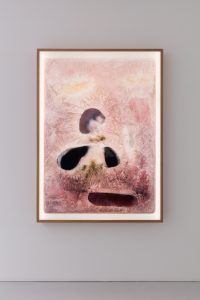 The lightboxes represent the moment 00:00 when the blocks first emerge from their mould. Their charged yet meditative demise is captured by Ng's time lapse films entitled 'Time Lost Falling in Love', a reference to time's elasticity. As the blocks cascade over 18 hours, Ng tailors and streamlines the process with the assiduous skill of a surgeon to a 20 mins lapse in which the form shifts colour and form, revealing their layers, core, underbelly, until they ultimately collapse in a pool of trace. What took weeks to build in the matter of minutes, gone.
The 'Ash' paintings each correspond to a particular block and are the ultimate remembrance. The swirls of pigment are each given a last breath as they cling to the paper; the watercolours and dyes leaving first, the acrylic hanging longest. The result is again topographical; we feel we've encountered a slab of quartz or a sulphuric tapestry.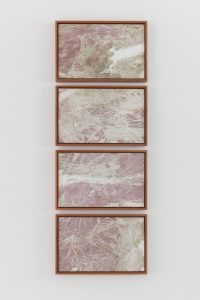 A further painting, one that is new to Ng's practice and marks a shorter route between block and plane, is 'Flow Sweetly, Hang Heavy I'. Large boulders of pigment are hacked and shattered to form meticulous arrangements of collapsed residue on wood. The result is more akin to a map: avenues, tributaries, ducts connect and swirl, collectively heaving into a place of things.