Time is a Black Circle
Light, Sound, Wood, Vinyl.
2023
National Museum Singapore
Time is a Black Circle is a circular time portal, a music box, a black hole. Hidden in the quiet basement of the National Museum, is a perfectly cylindrical roller disco.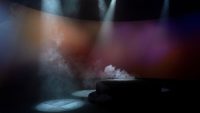 Here, ticketed visitors move through a slim, dark tunnel to enter an expansive rotunda of sound and colour. Once inside, one's universe explodes with bold, gradient hues of the 60s and 70s which blossom across the walls, while warm, crackling melodies of local discos from the era's throbbing disco scene saturate the senses.
Time is a Black Circle instigates a moment for viewers to be part in the ephemerality of an era gone by.
Central to themes of time and temporality in my practice, the work seeks to explore the tenor and trajectory of time, not in sterile hours, minutes and seconds, but in one's emotional relationship to the latter through the power of sound and colour.
Time is a Black Circle was commissioned by the Singapore Night Festival, organised by the National Heritage Board.
The festival ran from 18 – 26 August 2023 to light up the Bras Basah.Bugis (BBB) precinct, welcoming festival-goers to discover Singapore's transformative history with the theme "Singapore, the Great Port City".