31 Jan 2019
The Colour of Curiousity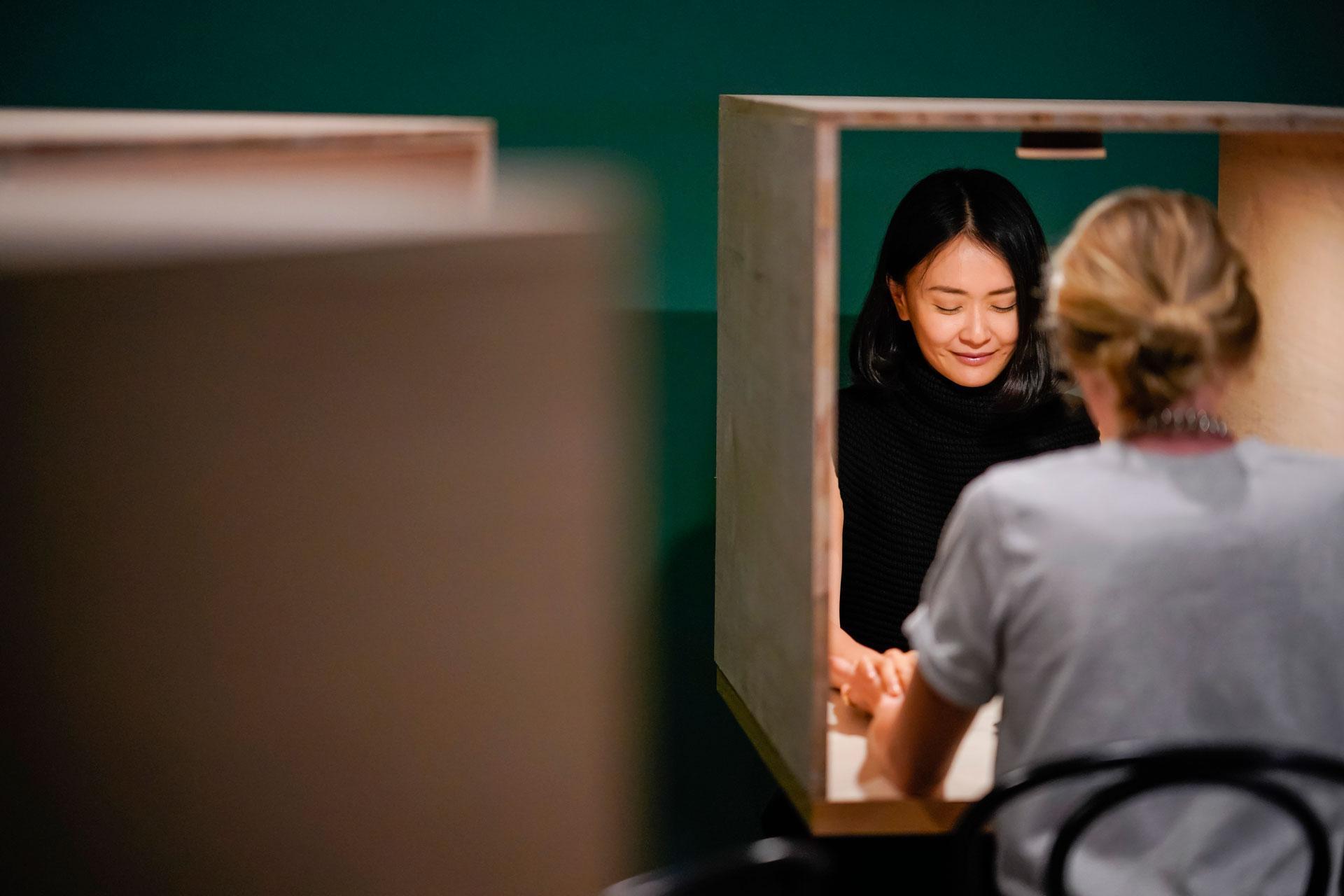 Text by: Lee Chang Ming
Dawn Ng's practice revolves around themes of time, memory, identity and space, adopting a fresh take for each project. Not one to stick to a single medium, the Singaporean artist has worked across text, illustration, collage, sculpture and large scale installations. She has exhibited at Art Basel Hong Kong, Jeju Biennale and was commissioned by Fondation d'enterprise Hermes to inaugurate their Singapore flagship's gallery with a solo show.
Her latest piece, titled "11", sees the artist venturing into performance for the first time. Held at Telok Ayer Arts Club, the work invites 11 pairs of strangers to sit across each other in confession style booths to perform 11 scripts penned by the artist. The texts deal with of ideas nostalgia, emotion and relationships through encounters in the city. We speak to Dawn Ng on her genre-defying practice.
Please tell us a bit about your background. You were previously working in advertising. Was art something you knew you would get into while growing up?
Not at all. I mean, growing up, I was always obsessively making one thing or another but I never thought of it as art. For my generation, it felt like a ludicrous and self-indulgent thing to say, that you are an "artist" and that what you make is called "art".
You've spoken about how colours play in important part in your practice and how it relates to ideas of perception and emotion. What colour would you use to describe your current state of mind and why?
White, almost always. Because it feels more like light, or a state of consciousness, than a colour.
In your work "How to Disappear into a Rainbow" at Aloft at Hermès, large pastel panels lined with horizontal mirrors reminds one of a mirror maze, which feels like the installation creates a space for both contemplation and play. Is this sense of childlike wonder important to you?
I think we are all trying to access certain feelings of our youth. Wonder is one of them.
Is ambiguity something you deliberately employ in the presentation of your works?
No. I really hate that. I don't mean that works should be literal. But a good work should hit you the way truth does — simple and clear.
Your projects cover such a wide range of mediums, from large-scale installations to text. What draws you to a project, and do you actively seek diversity in your work?
Every new project to me is akin to approaching a stranger. For the most part, I am open—curious, more than anything. I always want to believe in the infinite possibilities of any encounter but in the end, it takes some form of falling in love—that level of compulsion, investigation, obsession and faith to bring a project into form. I don't actively seek diversity for the sake of it but I do love navigating a new medium and pushing a material past our understanding of its use.
Your earlier work, such as "A Thing of Beauty", recontextualizes everyday objects and aestheticises them. How do you strike a balance between process and aesthetics? Or do you think one is more important than the other in your practice?
I would say I weigh process and aesthetics equally. But the most important thing to me in a work is concept — the big idea or story. Without the latter, a work has no gravity.
In "Perfect Stranger", which uses text and colours, how did you decide on the colours and gradients for each module? Additionally, how did you decide on the arrangement in the gallery space at Chan + Hori Contemporary?
As I was working through the texts, I always saw different excerpts bathed in colour. Sort of like an aura photograph, if you can imagine. Chan Hori was awesome — they agreed to let me hack down their walls, paint the floors white, and build a viewing deck, so that the works were laid out on the ground in an empty, swimming pool-like space. We live in an age where we see everything behind a piece of glass, be it our phones a window or behind a picture frame. I wanted to strip that all away, and have the work resting bare at one's feet, to establish a sense of intimacy and ephemerality with the viewer.
"Perfect Stranger" is a deeply personal work which looks at motherhood. Do you think your role as a mother has changed the way you see things? Does it affect how you see your past works?
I don't think Perfect Stranger particularly looks at motherhood, more than it examines the theme of time and self. Being a mother doesn't make me look back differently. It makes me look forward differently. I am more sensitive to the finitude of time.
You are presenting a performance-based work Telok Ayer Arts Club. Could you tell us how the idea for the work came about?
I was wrapping up production for my latest solo, Perfect Stranger, which just opened at Sullivan & Strumpf, Sydney. That work stemmed from a year long project in which every day a stranger would ask me a question and I would respond. I find the acute honesty between two people who don't know each other moving. It suggests a universality and connection shared by all of us, which inspired this piece.
What are you working on next? We hear it involves giant coloured cubes of ice!
Yes, I am obsessed with freezing large blocks of colour pigments and then documenting their dissolution. I find much beauty in their ephemerality and eventual death. Solid to liquid, liquid to gas — to me they exist as icebergs of time.