31 Aug 2023
Skating back in time with Dawn Ng's Time is a Black Circle
It's anything but a typical Wednesday night. I'm at the National Museum of Singapore, slipping on arm and knee guards and fumbling to lace up my baby blue roller skates. (These hands were made for typing, not anything dexterous, darn it!)
There's a door shut in front of me, with a Singapore Night Festival attendant telling me to wait before we can go in. Another encourages me to squat, as if I was lifting weights at a gym, to find my balance. I take her advice, slowly skating the length of the corridor. But still I waver, acutely aware of the wheels pressing against the soles of my feet, wondering if all of this was a bad idea.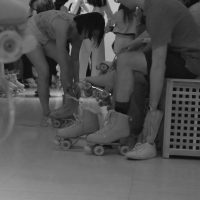 A couple of minutes pass and the door bursts open. The festival attendants begin patiently shepherding me and several other members of the media (including our Co-Founder Usha!) in, like a flock of sheep on wheels. Stepping into a dark corridor, disco tunes of decades past roar as pastel sunset-hued light envelops the surrounding walls. This is Time is a Black Circle, an immersive installation by Singaporean artist Dawn Ng, created for Singapore Night Festival 2023.
Getting into the groove
The week before, I posed Ng a few questions about the installation over email before actually seeing it, trying to figure out what to expect. "Time is a Black Circle is a perfectly cylindrical roller disco saturated with warm colour and vinyl sound," Ng told me. But it was hard to fully envision what she meant until I experienced it for myself.
Inside, the room is matte black and circular, with a seat at the centre, meant to mirror the shape and proportion of a vintage vinyl record. Swathes of colour—everything from psychedelic magentas and violets to softer hues of pink and yellow—dance across the walls, bringing them to life. Around me, the atmosphere is jovial: influencers pose with their widest smiles while journalists and editors watch the installation unfold, enchanted.
At first glance, it's obvious that this is Ng's signature aesthetic. Her multi-disciplinary practice features mediums such as sculpture, photography, light, film, collage, painting and large-scale installations. She's best known for her nuanced use of colour to reflect on time, memory, and emotion, and Time is a Black Circle appears to encapsulate all of this.
While the intricate, lace-like patterns of light dart across the walls and floor, mesmerising me, I begin skating, trying desperately not to bump into fellow skaters or fall flat on my face. However, I imagine that more experienced skaters will have no problem immersing themselves fully in the work, as they skate round and round, losing themselves in the throes of evocative colour and blaring disco.
And on why Ng planned for the work to take the form of a roller skating rink, her response is tender:
"Dusting off the Covid years, I really wanted people to hold hands again. A roller disco is a good excuse."
While the title reflects the installation's shape, I wonder if it also refers to the phenomenon of history repeating itself and how trends from decades ago are now making comebacks faster than before, altering our understanding and experience of time.
The Sounds of History
The year is 2023, so what's up with the non-stop disco music, which I, admittedly a millennial, don't recognise?
With the installation, Ng responds to the history of the Bras Basah.Bugis precinct. In the seventies, many flocked to the district for live discotheques owned by notable establishments like Kelong Restaurant and YMCA (Young Men's Christian Association). On how this period of time piqued her interest, Ng expounds, "I was intrigued by the area we now associate with Cathay Cinema, which was once home to discos like The Celestial Room and bands such as The Silver Strings."
Curious, this sent me down the rabbit hole of learning about firsthand and historical accounts of Singapore's nightlife, which, despite having been to my fair share of nightclubs here, I barely knew about. Up till learning about Ng's work, my only understanding of nightlife from decades past consisted of older colleagues' and relatives' anecdotes of what Zouk's original Jiak Kim Street location in the '90s was like.
As such, I found the installation's focus on the Swinging Sixties and Disco Fever eye-opening, as Time is a Black Circle gave me a taste of what going out in Singapore decades ago might have been like. This made me wonder if my grandparents, like me, struggled to roller skate, or if they even got the chance to do so at all.
A Blast to the Past
Overall, while I have no affiliation to the seventies or disco, I imagine that older visitors will have a blast reminiscing about the first time they strapped on their skates and heard certain songs like Rita Chow's Yummy, Yummy, Yummy or You're the Boy by Shirley Nair and The Silver Strings. As for me, I was pleased at how skating allowed me to immerse myself in the whirlwind of the installation—moving to a sea of sound while lights flashed and glimmered was undeniably liberating.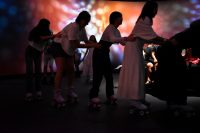 And it's worth mentioning that you don't have to be a skating pro to enjoy the work. Each session includes a mix of skaters and non-skaters, meaning that you can sit back, relax, and soak in the sights and sounds if you prefer.
Despite the sweat I worked up during the 15-minute session (it's more intensive than you might expect, I promise!), I leave feeling exuberant, if a little tired. As I exit the room and unlace my skates, my thoughts centre on how Ng mentioned wanted visitors to experience "joy" from the work—she certainly hit the nail right on the head.
–
See the original article published on Plural Art Mag's platform